One thing I know is that my figure drawings all look the same. They lack color and composition, and I need to experiment more with my drawing "style". Anyway, I spruced up two old drawings to try to make them more interesting:

Joel if you see this it has no reflection upon you, I just grabbed the sticky off of my computer desk to use.

This one looks pretty good in real life, not so much scanned. I used a gold india ink wash which I've been dying to use since forever.  love the idea, seen all throughout different movements of art but I
think
starting with byzantine art or thereabouts, that gold represents the ethereal. To me, that can not only mean the ethereal realm but can also otherworldly knowledge- IE: halos. Byzantine halos were made to represent holy figures, those that were enlightened.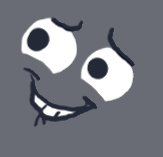 I made this as a test. One of my upcoming projects this quarter will be a cut-out animation with sound, and quite honestly I'm very excited about it because I have a really goofy idea (though one thing I'm worried about is one of the jokes relies on SFXs and I'm definitely not good at all at sound!). I know what I want to do with it in general (hopefully there won't be any stupid guidelines like: "you have to make an animation about [insert stupid theme here]"). Anyway, this was a test for one of the expressions one of the character will make in the short. It's only 4 frames! Hopefully when I get back from NM I'll do some initial character designs (there's only 2 characters..and a hover pack).